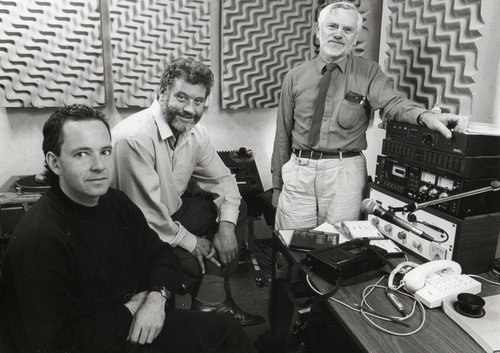 Cataloguing the historic Spectrum series
20 Mar 2020
It's hard to overstate how much New Zealand life and culture was captured by Radio New Zealand's Spectrum documentary series. During its remarkable 43 years on air, it recorded hundreds of stories of life around the country. Ngā Taonga cares for the sound archives of RNZ, which includes the master tapes of over 1,000 Spectrum episodes, dating from 1972 to the 1990s.

During the COVID-19 lockdown, Ngā Taonga staff who are unable to carry out their usual work remotely have created a team who are listening to and cataloguing episodes of Spectrum from home. This special project will provide much more detail on the speakers, topics and locations covered. Additionally, most of these programmes will be uploaded to our online catalogue and this will significantly increase access to this important series.
Many episodes haven't been heard since they were originally broadcast several decades ago – until now.
Alwyn 'Hop' Owen and Jack Perkins began Spectrum in 1972. Portable tape recorders that had become available in the 1960s allowed radio producers to get out of the studio to seek stories from all corners of the country. Spectrum's brief was to record human interest stories, to balance against news and current affairs programmes which were catered for in that other long-running RNZ series, Insight.
It wasn't long before the Spectrum team realised that a very rich seam lay exposed, ready to be mined. Life and work from before the First World War, through the Depression years of the 1930s, the Second World War and beyond – the men and women who had lived through these times and events were ready and willing to tell their stories.
The resulting collection of weekly half-hour programmes is an amazing body of oral history recordings of New Zealanders talking about themselves and their lives. From kauri gum-diggers to K Road sex workers, from BMX-ers to ballet dancers, Spectrum has hundreds of stories to tell.
Click here to explore the Spectrum episodes we have available to listen to online. More and more will be added in the coming months.