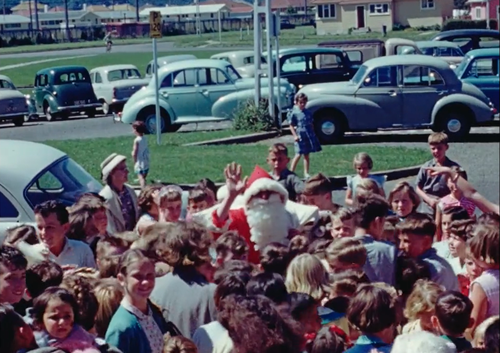 Happy holidays from Ngā Taonga Sound & Vision
12 Dec 2022
Each year for the summer holidays, our team creates an extra special video compilation from the many treasured films we hold for safe keeping in Ngā Taonga Sound & Vision's audiovisual archive.
We love to share these snippets from New Zealand's past with you each year, and below are a few of our favourites!
Hero image: Still from a video filmed in Naenae in 1955, by Cyril Townsend.
2022 - 'Tauranga & the Bay of Plenty'
In 2022, our team took inspiration from amateur filmmaker Norman Blackie and the recently preserved films he shot with his modified Keystone Model A7 16mm camera.
We have used excerpts from his recordings of civic events in Tauranga and the Bay of Plenty, which he filmed between 1953 and 1973.
Thank you to Tauranga City Libraries for allowing us to share their deposited items.
2021 - 'Inspiring Summer Projects'
This short compilation shows crafty and hardworking New Zealanders carrying out some inspiring summer projects – which even motivated some of our team to have a tinker on their own inventions.
2020 - 'Festive Food'
Our 2020 holiday video is a compilation of material from our collection with a special focus on kai and yummy festive food.
'A recipe for a great Christmas - a generous serve of breakfast, spend time outdoors and refuel with some coffee, at least two helpings of dinner with the whānau, and far too much dessert!'
2019 - 'Our History Helps Us Understand'
This compilation is inspired by the past and highlights our shared experiences, with a plethora of videos taken from around New Zealand, including those Christmas parades we loved as kids, a traditional beach cricket game and a summer swimming carnival.
2018 - 'A Kiwi Summer'
Our 2018 compilation inspires many memories of that quintessential kiwi summer spent with friends and whānau.
2017 - 'Naenae'
This personal record, filmed by Cyril Townsend, shares the sense of community and excitement felt by locals at Christmas in 1955.
The soundtrack comes from a recording of the Christmas carol Tūpono Mai – While Shepherds Watched, sung in Māori and English by the children of Hiruhārama School, just outside Ruatōrea in 1939. 
Their school choir became famous in the 1930s for the quality of their singing. Prime Minister Peter Fraser visited the school when he was Minister of Education, and was so impressed he arranged for the children to go to Wellington to make some recordings and radio broadcasts, which he thought would be useful for other schools to hear.
2016 - 'In the Bush'
In 2016, we shared a video of New Zealand Novelist & Playwright, Ngaio Marsh, recalling her 1913 Christmas, which was spent camping in the beech forest at Glentui Bush, in the foothills of the Southern Alps, in Canterbury.