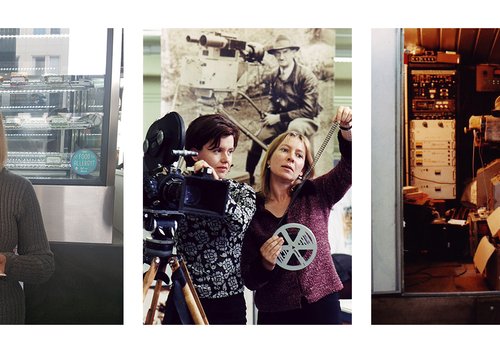 Jane Paul, 19 January 1958 – 13 November 2018
15 Nov 2018
It is with deep sadness that Ngā Taonga Sound & Vision reports the death of our colleague Jane Paul who passed away on Tuesday 13 November after a short and sudden illness.
It is only recently that we celebrated Jane's 31 years of service to Ngā Taonga and its predecessor, the NZ Film Archive. Jane was truly dedicated to the Archive and the preservation and promotion of New Zealand's film history. Her career mirrors the history of the medium, beginning with her first role repairing nitrate film at the Archive in 1986. She progressed through film conservation to researcher and cataloguer before spending seven years managing the Last Film Search project (1992-99), which aimed to locate and preserve at-risk film of social and historical importance.
The success of the Last Film Search led Jane directly on to setting up and managing the BNZ-sponsored Travelling Film Show and subsequent programmes of community screenings. These projects took many of the discovered treasures on tour to far flung parts of the country, displaying them to audiences in regional theatres, town halls, schools, marae and tents. Between 2010 and 2016 Jane led the Archive's partnership with Heritage New Zealand taking the Reel Life in Rural New Zealand screening programme to many and varied historic status venues including a memorable programme displayed in North Island and South Island historic woolsheds. In 2010 Jane coordinated (with Free Theatre) the presentation of The Marvellous Corricks at the New Zealand International Film Festival. Our archive also contains many valuable interviews conducted by Jane with New Zealand film figures, particularly amateur filmmakers with whom she shared a longstanding affection and interest.
Testifying to her professional achievements, Jane was the recipient of several awards during her career, including the National Business Review's top arts prize in 2000 for the Last Film Search, and Museum Aotearoa's Most Innovative Public Programme award in 2012 for the Woolshed Tour of Reel Life in New Zealand. Earlier, in 1998 she was the recipient of a Winston Churchill fellowship to research early New Zealand films in UK and USA archives, and her work resulted in the repatriation of many lost films to the NZ Film Archive.
Jane made an impact outside of the Archive too. The daughter of publishers Dame Janet Paul and Blackwood Paul, Jane worked with CIRCUIT Artist Film and Video to survey her sister Joanna Paul's experimental film work, leading to screenings around the world. In 2017, after two years of work, Jane helped bring to publication Visual Language Games, the first book dedicated to the art and design of her then 101-year old step-father Michael Nicholson.