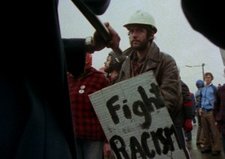 Ngā Taonga preserves PATU! and launches an exhibition for the 40th anniversary of the Springbok Tour
23 Jul 2021
Audiovisual archive Ngā Taonga Sound & Vision has recently completed a major project to digitally preserve PATU!, the definitive documentary about the 1981 Springbok Tour.
This preservation restores PATU! to its original length by reinserting scenes that were trimmed for television, and restoring the picture quality, colour and sound. The work was done in collaboration with the whānau of director Merata Mita, who passed away in 2010.
To celebrate the completion of this project and to mark the 40th anniversary of the Springbok Tour, the Archive is launching a new exhibition, TOHE | PROTEST, at the National Library of New Zealand, Wellington.
The new exhibition explores how the escalating tensions between activists, the police, rugby fans and politicians were presented by both government broadcasters and activist filmmakers. Visitors will be able to see excerpts from PATU! and learn how the experts at Ngā Taonga dealt with the challenges involved in digitally preserving this iconic film.
Ngā Taonga Tumu Whakarae – Chief Executive Honiana Love says, 'Using the 1983 masters, our preservation team worked for nearly five years to bring this important piece of New Zealand's film history back to its original condition and length. PATU! will now be able to be viewed as it was by audiences back in 1983 when it was first released in cinemas.'
Hero image: Image of people protesting the 1981 Springbok Tour.