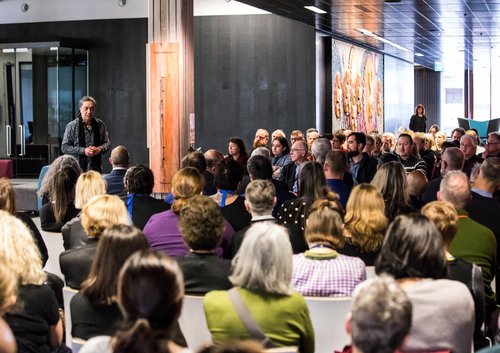 Reduced work week fosters wellbeing and belonging at Ngā Taonga
26 Jan 2023
In February Ngā Taonga, New Zealand's audiovisual archive, will permanently move to an innovative, highly flexible way of working to improve staff wellbeing and foster an inclusive and whānau-friendly workplace.
The new working model has three key elements: a reduced working week for all staff of 32.5 hours with no reduction in pay, more flexible working arrangements and more working from home options. Ngā Taonga had been trialling new ways of working since June 2022 following an employee-centred design process that prioritised collaboration, trust and collective mahi.
"This new way of working embodies our values as an organisation to help improve wellbeing and cultivate a sense of belonging. Key considerations were the wellbeing of staff, a commitment to being an inclusive organisation, and the integration of Te Whare Tapa Whā model of health. Staff surveys from the six-month trial have already shown us that the reduced work week has improved health and wellbeing," says Honiana Love, Chief Executive, Ngā Taonga.
In common with many organisations impacted by Covid-19 Ngā Taonga staff reported struggling with their wellbeing at the beginning of the trial. Drawing on data across four staff surveys conducted during the trial, feedback showed there were strong improvements in all four wellness dimensions under the Te Whare Tapa Whā model of health: Physical Health (Taha Tinana), Spiritual Health (Taha Wairua), Family Health (Taha Whānau), and Mental Health (Taha Hinengaro).
In the final survey staff reported a positive impact on their wellbeing, including energy levels, caregiving responsibilities, ability to meet whānau needs, physical health and mental health. On average, Ngā Taonga saw a 30% increase in key areas of staff wellbeing.
"Improving wellbeing was a key driver. It was also very important to us to identify and create working patterns that are more accessible for people with a range of cultural commitments, neurodivergences, and whānau obligations," says Nell Fitzjohn, Manager People Practice, Ngā Taonga.
While many companies are trialling the four-day work week, Ngā Taonga has implemented it and gone one step further by making working arrangements more flexible.
"Staff have three working pattern options to choose from to suit their individual needs, which include a five-day work week with reduced hours, a four-day week with Friday off, and a nine-day fortnight with alternate Fridays off. The purpose of the range of options was to be as inclusive as possible," says Honiana Love.
Staff reported that this new way of working has had a tangible positive effect, both in and out of work.
"It's easy for workplaces to approach wellbeing at a surface level, but this is a genuine, material change that has and will continue to have very literal impacts on staff lives," says Caitlin Lynch, Manager Collections, Ngā Taonga.
Another focus during the trial period was on boosting the professional capability of staff. Business skills workshops were made available, with staff spending a combined total of 560 hours on professional development activities.
Overall, Ngā Taonga staff reported that, by applying those new skills, they were able to meet and sustain their normal workloads and business requirements during the reduced hours. A key contributor to this was a measured improvement in the effectiveness of business meetings, which had been a focus area during the trial.
"It was encouraging to see the broad and positive impacts achieved over the course of the trial. I was also pleased to hear about the positive ways that our staff reported using their extra time, such as spending more time with whānau, doing charitable work and participating in and supporting cultural and arts activities," Honiana Love says.
Further business benefits include the Employee Net Promoter score of Ngā Taonga increasing by 50% over the course of the trial.
"In a tightening labour market having a point of difference is key. Adopting this unique, people-centric way of working not only reflects our values and fosters wellbeing at a foundational level, but we hope it will help us attract and retain staff," says Love.
Please contact our Ngā Taonga team for any media enquiries.
Hero image: The Ngā Taonga team.