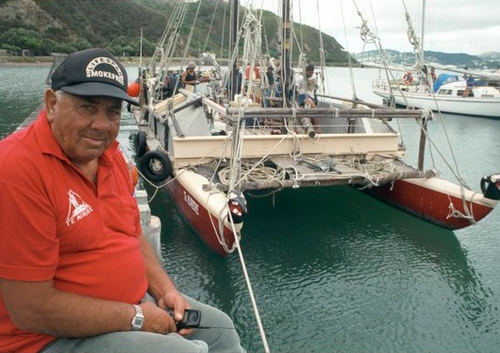 He maimai aroha mā Hekenukumai - Sir Hector Busby
13 Mar 2019
Bridge builder, kaumātua, celestial navigator & waka builder.
By Lawrence Wharerau (Kaitoko Kaupapa Torotoronga ā-Iwi Matua – Senior Outreach Curator Māori Specialist)
Tā Hekenukumai Ngāiwi Pūhipi KNZM, MBE (1 August 1932 – 11 May 2019) - Te Rarawa, Ngāti Kahu
He rāngai maomao ka taka ki tua o Nukutaurua, e kore a muri e hokia.
I whānau mai, i kuraina hoki a Hekenukumai Ngāiwi Pūhipi, āra a Tā Hector Busby i te kāinga iti o Pukepoto i te uru o Kaitaia. Ka mutu te kura ka tīmata ana mahi hanga piriti, 150 i oti i a ia i Te Tai Tokerau, e tū ana tana piriti tuatahi i mua i te Whare Pirihimana o Kaitaia.
I ngākaunui a Tā Hekenukumai ki te moana, ā, nō te tau 1973 ka whakahoungia e ia a Ngātokimatawhaorua – te waka tauā rahi rawa o Waitangi. Ka pupū anō i konei te hiahia o tana tamaititanga – arā ki ngā waka. Nāna te waka hourua o Hōkūle'a o Hawai'i i pōhiritia i Waitangi i te tau 1985, muri mai i tētahi rarunga i tai, ana ka whakatau ia, māna e tārai waka hei ako, hei pupuri hoki i ngā akoranga tātai arorangi kua āhua ngaro.
I ngā tau 1980 ka mahi tahi rātou ko Mau Piailug, he kaiurungi waka rā nō Satawal, rātou ko tana tauira, a Nainoa Thompson o Hawai'i. Nā rātou i wānanga ngā mātāpono o te tātai arorangi i te moana, me ētahi atu o ngā tohu o te moana hei tohu mā ngā waka. Nā te Polynesian Voyaging Society o Hawai'i ēnei mahi i tuhura.
E 26 ngā waka i oti i a ia te hanga, ā, e 30,000 ngā kiromita i terea e tana waka a Te Aurere ki ngā moana nui. Nō te Hakihea o te tau 2012 ka tere rāua ko Ngāhiraka Mai Tawhiti i ngā māero 5,000 ki Te Pito o Te Henua rā anō, ka hoki mai i te Haratua o te tau 2013. I oti ai te waka tuarua nei hei maharatanga mō tana wahine mō Ngāhiraka.
Nō te Huitanguru i te tau 2019 ka whakanuia a Tā Hekenukumai Ngāiwi Pūhipi ki te Knight Companion of the New Zealand Order of Merit, hei tāpiri ki ētahi atu tohu ki runga ki a ia: New Zealand Commemoration Award, i 1990, Member of the Order of the British Empire i te tau 1994, nō te tau 2014 ka ingoahia ia hei Officer of the New Zealand Order of Merit – he whakanui katoa i tana āwhina i tana iwi Māori.
Nō te whakanuitanga i te Huitanguru nei, ka homaihia he pūtea kāwanatanga kia tū ai he whare tātai arorangi ki Aurere i te raki i te one o Cooper i te takiwā ki Mangonui.
Hero image: Sir Hekenukumai Busby with the twin-hulled waka Te Aurere, Shelley Bay, Wellington - Photograph by Melanie Burford (Dominion Post - Alexander Turnbull Library, Wellington)
Hekenukumai Ngāiwi Pūhipi aka Sir Hector Busby was born and schooled in the tiny settlement of Pukepoto, west of Kaitaia. On leaving school he began a career in bridge building, completing over 150 over the Northland region – the first bridge he built stands in front of the Kaitaia Police Station.
Sir Hekenukumai had a keen interest in the ocean and, in 1973, he refurbished Ngātokimatawhaorua – the large ceremonial waka tauā housed at Waitangi. This only served to pique his childhood and youthful interest in canoes even more. In 1985, he was at Waitangi to greet the Hōkūle'a – the open-ocean, double-hulled canoe from Hawaii. And following an incident at sea, determined that he would build a similar vessel for Māori to train, regain and learn lost celestial navigational traditions.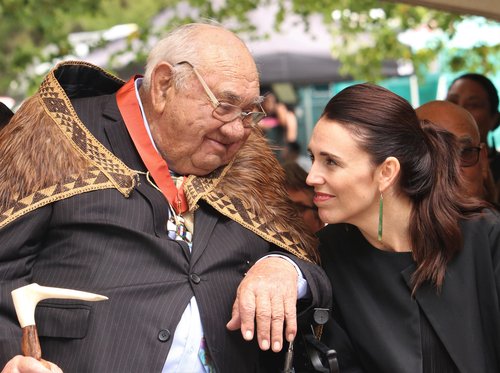 In the 1980s, he teamed up with Mau Piailug, a traditional navigator from Satawal, and Nainoa Thompson from Hawaii, a student of Piailug. The three began sharing ideas and theories regarding navigating by the stars and natural indicators to determine the direction of ocean going vessels. The Polynesian Voyaging Society based in Hawai'i has led this journey of discovery.
He was responsible for helping construct at least 26 traditional waka and his first vessel Te Aurere has completed over 30,000kms on the open ocean. In December 2012, with another vessel Ngāhiraka Mai Tawhiti, constructed for the memory of his wife Ngāhiraka, both craft voyaged 5,000 nautical miles to Te Pito o te Henua, Easter Island, completing the return leg in May 2013.
In February 2019, Tā Hekenukumai Ngāiwi Pūhipi was honoured with the title of Knight Companion of the New Zealand Order of Merit to add his previous awards – the New Zealand Commemoration Award in 1990, Member of the Order of the British Empire in 1994, and in 2014, he was named an Officer of the New Zealand Order of Merit – all were for services to Māori.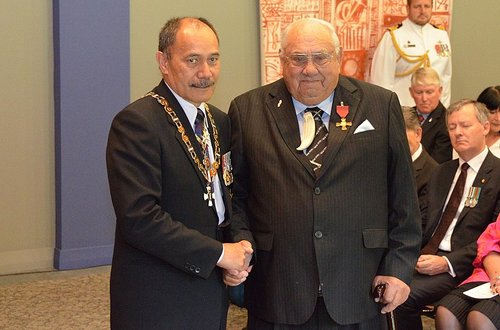 Following his knighthood in February this year, he received substantial funding from central government to build a navigational centre of learning at Aurere, north of Cooper's Beach in Doubtless Bay, Northland.
Sir Hekenukumai passed away on Saturday, 11 May 2019 following illness. Farewell chief.
The maomao that swims beyond Nukutaurua will never return.