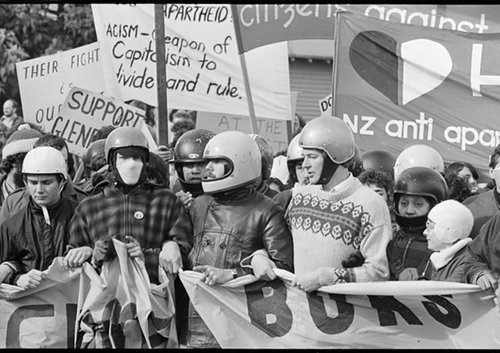 Covering the Tour
28 Jul 2016
Listen to archived sound recordings of the 1981 Springbok Tour protests.
By Sarah Johnston
Thirty-five years ago this week we were in the middle of New Zealand's "winter of discontent," with the country embroiled in the 1981 Springbok Tour. Protests took place all over the country,  with many families divided between rugby fans – who thought sports should not be concerned with political issues – and those who felt New Zealand should be joining the international boycott and cutting all sporting ties with apartheid-era South Africa.
Radio New Zealand news and sports reporters were in the thick of it, as the conflict between police, protestors and rugby fans became more and more heated. You can hear me talking to RNZ's Jesse Mulligan about some of the archived sound recordings from those turbulent times held in the radio collection at Ngā Taonga Sound & Vision, or read more and find links to the recordings below.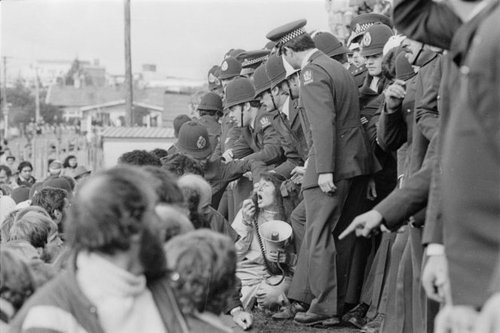 In the tour opener at Gisborne, anti-tour protesters had managed to break through a perimeter fence but were prevented from occupying the field and disrupting the match. Three days later, at Rugby Park in Hamilton on July 25,  Waikato prepared to take on the Springboks. Over 500 police officers were present in the city but the protest planners had also been busy, buying more than 200 tickets for the game to ensure that protesters could make their presence known. As it was a Saturday, more people were able to protest, and around 5,000 gathered to march on Rugby Park. Shortly before kick-off, RNZ's sports commentators, the late Graeme Moody and John Howson found themselves covering the action as protestors broke down the fence and made their way onto the field.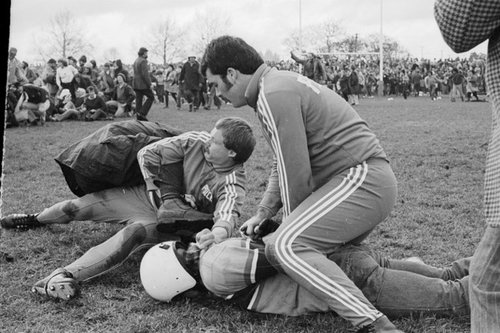 After the pitch invasion police had to control a potentially very volatile situation – thousands of frustrated rugby fans, surrounding a group of committed protestors in the middle of the field. As the game was cancelled, the fury of the thwarted rugby fans could be felt through the airwaves: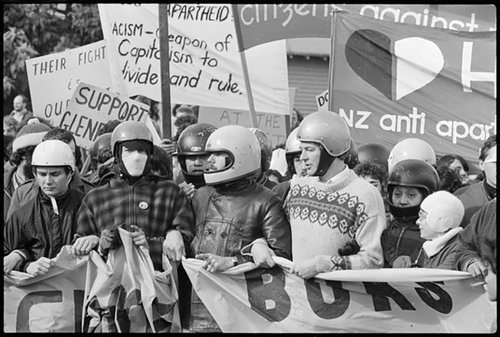 The Waikato game was the first being televised live back to South Africa, so viewers there saw the New Zealand opposition to the tour and apartheid. And the protests kept coming – soon taking place on a daily basis and not just at games.  
On July 29,  in Wellington, 2,000 anti-tour protesters were confronted by police who used batons to stop them marching up Molesworth St to the home of South Africa's ambassador in Wadestown. This was the first use of batons against protestors and the violence horrified many people. There were no mobile phones in 1981, so reporters couldn't provide live coverage from the middle of a march, but RNZ reporters Lindy Fleming and James Weir were there and reported back in the studio on what they saw and captured with their tape recorders.