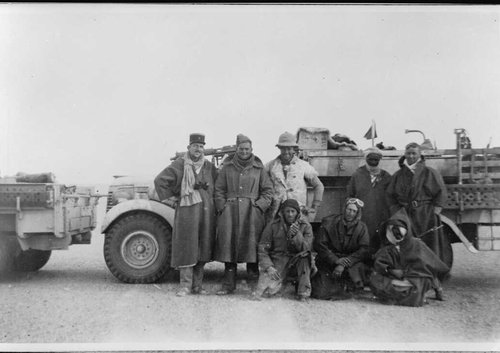 Voices of the Long Range Desert Group, Part 2
17 Apr 2023
Part two of a two-part blog.
By sound history researcher Sarah Johnston 
Hero image: Group of New Zealand and French troops during Fezzan Raid. Photograph taken in January 1941 by Trooper F Jopling. [Alexander Turnbull Library Ref. DA-00877-F].
The National Broadcasting Service and the Long Range Desert Group (LRDG) men themselves were also pleased with the radio listener response in New Zealand to the recordings, when they were broadcast. In April, Johnston writes again: 'Recording more stories from two LRDG men – glad you enjoyed the previous ones. The men were very pleased and nearly all have had letters from their people about it. One was Moore who walked 210 miles across the desert'(1). This was Trooper Ronald Joseph Moore of Taihape (military service number 1248), who was injured in the action at Kufra and believed to be a prisoner of war.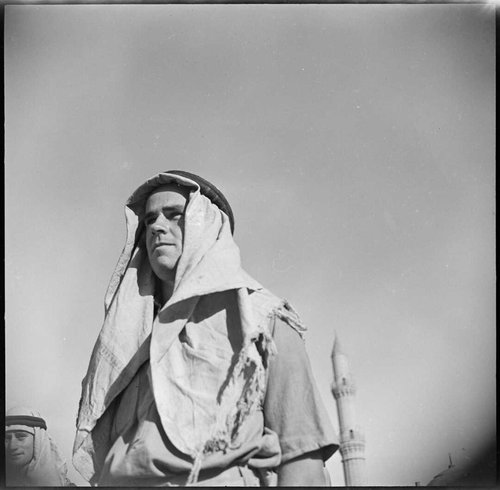 However, he had avoided capture, and incredibly, walked some 200 miles through the desert with minimal supplies of food or water, until he met up with a Free French patrol some 10 days later. He was later awarded the Distinguished Conduct Medal. The Broadcasting Unit recorded Moore telling his own story, and then made an extensive series of recordings with Trooper Frank Jopling of Okoroire in Waikato (1314) who reads from the diary he kept during patrol missions between September 1940 and January 1941.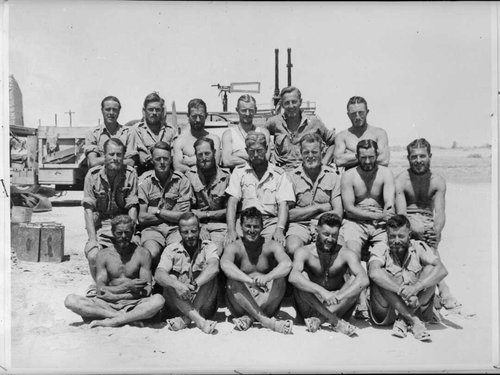 It appears a good relationship developed between the broadcasters and the men of the LRDG. Later in April 1941, when the Broadcasting Unit tried unsuccessfully to get permission to accompany the New Zealand Division to Greece, Johnny Johnston wrote home: 'We were trying to get away to Greece last week but G.O.C [General Officer Commanding] has flatly refused… We are very fed up. LRDG chaps are very kind – we have grown very fond of them and they drop in to see us whenever they come in from patrol'(2).
General Wavell, the Allied Commander-in-Chief in the Middle East, made special mention of the LRDG in his official dispatch covering February – July 1941:
'Operating in small independent columns, the group has penetrated into nearly every part of desert Libya, an area comparable in size with that of India. Not only have patrols brought back much information, but they have attacked enemy forts, captured personnel, transport and grounded aircraft as far as 800 miles inside hostile territory… Their journeys across vast regions of unexplored desert have entailed the crossing of physical obstacles and the endurance of extreme summer temperatures, both of which would a year ago have been deemed impossible. Their exploits have been achieved only by careful organisation, and a very high standard of enterprise, discipline, mechanical maintenance and desert navigation. The personnel of these patrols was originally drawn almost entirely from the New Zealand forces; later officers and men of British units and from Southern Rhodesia joined the Group'(3).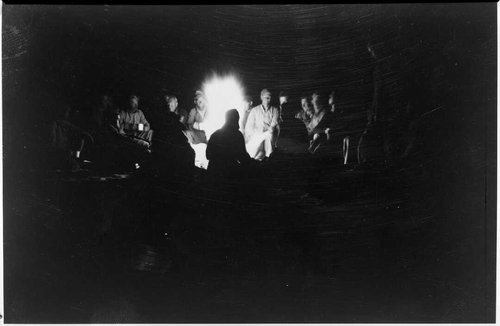 The New Zealand Division's Public Relations Service (PRS) war diary notes that in November 1941, all further news of LRDG activity was blocked by military censors. This was at the start of the Crusader Offensive, when the Allies began pushing the German and Italian forces back across Libya, in an attempt to liberate Tobruk. It was at this time that the group began supporting the work of the newly formed Special Air Service, under Captain David Stirling, as depicted in the Rogue Heroes series. No further recordings of them survive in the New Zealand sound archives, although the PRS diary noted in May 1943 that Broadcasting Unit member Noel Palmer was setting out in the recording van to record 'messages home' from the LRDG. This was one of the New Zealand Broadcasting Unit's key roles – supplying recorded greetings by New Zealand men for the weekly radio programme With the Boys Overseas. Sadly, many of the discs of 'messages home' appear to have been lost due to wartime shortages. Recording discs were in short supply, so many were reused after they had been broadcast, and the original messages on them were recorded over. The LRDG messages from May 1943 may well have been among them.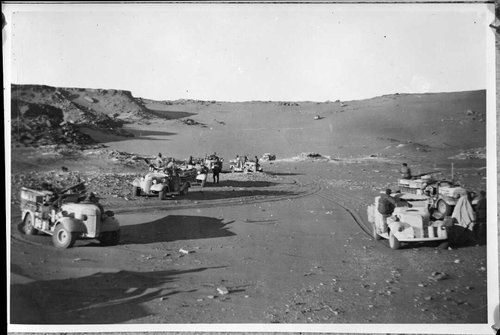 Military historian Gavin Mortimer, who has written extensively about both the LRDG and the SAS, believes the former was of greater value in the Allied North African campaign:
'They were the brains of the operation in the desert while the SAS were the brawn. It was their role to navigate them to their targets… They would drop deep behind enemy lines and their surveillance was crucial as they reported back to General Montgomery the strength of the Germans and where to attack them. They were the eyes and ears of the offensive. What they did was painstaking – they would spend days hidden just yards from the main coastal road which the Germans would use. They would take notes of how many vehicles passed, how many soldiers there were and even the mood of the soldiers – if they were singing or depressed – and this information would be radioed back.'4
Also held in the archives at Ngā Taonga Sound & Vision are three short pieces of silent film footage shot in the Fezzan campaign, by Walter "Wink" Adams, (military service number 1074), another New Zealand member of the LRDG.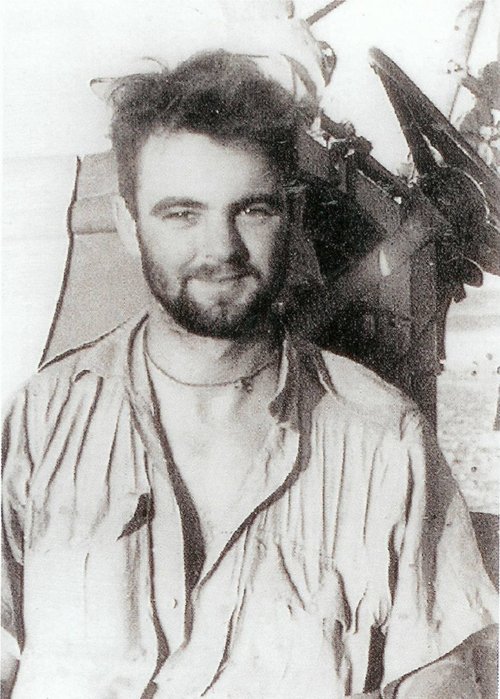 Incredibly, he had a film camera with him on desert patrol and captured not only day-to-day life in the group, but also the meeting with the Free French unit from Chad in January 1941, who arrive on camels led by their commander, Lieutenant-Colonel Jean-Claude d'Ornano, who is swathed in full Arab desert robes.
A full account of the Fezzan raids and more photographs of the LRDG in action can be found in Long Range Desert Group in Libya, 1940–41 by R.L. Kay, which is available online as part of the Official History of New Zealand in the Second World War, 1939-1945.
The recordings written about here have been digitised by Ngā Taonga Sound & Vision and can be listened to online via the following links. Note the length of the original recordings means they had to be recorded over multiple discs, which is why each is split into many 'parts'. These divisions have been maintained in the archival record, although when the interviews were finally broadcast on air back in New Zealand, they would have been edited back together to form one item.
Recordings:
References
Military historian Gavin Mortimer quoted in 'The little-known story of a crack Kiwi World War II unit, the Long Range Desert Group', The Daily Mail, 14 April 2017. Reprinted in The New Zealand Herald.
Doyle, Peter and Bennett, Matthew R., Fields of Battle: Terrain in Military History. New York: Springer Publications, 2002, p.316
'N.Z. troops rove Sahara', Northern Advocate, 15 February 1941, p.3
Johnston, Norman Balfour. Personal correspondence, 19 February 1941.
About the author
Sarah Johnston is a former broadcaster and sound archivist, researching recordings made by the New Zealand mobile broadcasting units during World War II. You can read more about the project on her blog World War Voices.