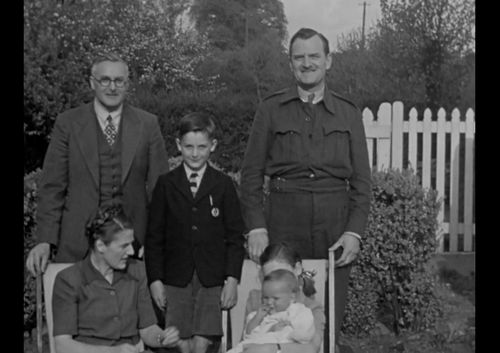 A Petone Family Mystery
8 Jul 2019
A film from our collection has recently been scanned and uploaded to our online catalogue. It has been given the title 'Personal Record. [Family & in and Around Petone]' though other than what can be seen in the film, there isn't too much we know. This recording was deposited in 1996 as one reel of 16mm film.
The depositor says they found it at a Hutt Valley High School fair. They bought it as they believed it would otherwise be thrown away and they wanted the film to be cared for. We believe the footage is from around 1947 to 1950.
Hero image: A still taken from a film of unknown origin.
It opens with a number of family shots which are almost certainly filmed in England. Later, several family members are shown swimming, at Eastbourne in Lower Hutt. Beginning at 6:36 there are a number of very good shots of Petone streets and views from the hills.
Do you know this family? Please let us know if you recognise anyone in this film – we're keen to try and identify those involved. Please get in touch with us