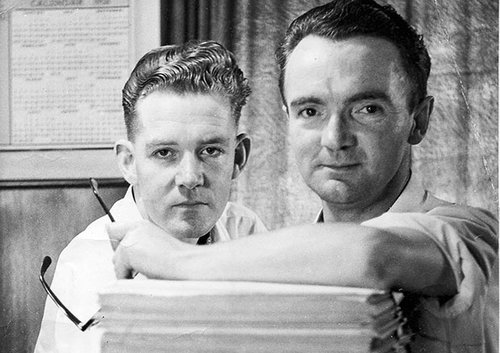 Morrow Productions
23 Apr 2014
Morrow Productions was a film production company founded in 1951 and based in Levin.
Morrow Productions was a film production company founded in 1951 and based in Levin and were a busy and well-equipped studio that also produced live action advertisements, documentaries and – during the 1970s and 80s – feature films.
Formation
Morrow Productions was formed by Scotsman Bob (Robert) Morrow, who had undertaken ten years of work with Disney animators in Britain before immigrating to New Zealand in 1948, to take a role with the National Film Unit training staff in animation techniques. Following funding cuts in the wake of the 1949 election and feeling that "the authorities were not awake to the opportunities attending the production of cartoons in this company," he left to set up his own company devoted to animation ("N.Z. Film Cartoons May be Exported Overseas," 1950s newspaper article, Ngā Taonga Sound & Vision Documentation Collection). He soon brought Mike Walker, who had been working at the Tourist and Publicity Department as a photographer and graphic artist, on board as a business partner.
The two men started out with a small team (they trained three teenagers from Wellington Technical College from scratch in the art of animation) and a lot of ingenuity. They converted a Levin bungalow into an animation studio, complete with drawing studios, film and audio recording equipment, and a temperature cabinet for keeping the animation cels at a uniform temperature (to prevent warping). They encountered an initial setback when their first film camera, ordered from France, arrived without a motor and it took two years for the missing part to appear; however, the company was underway making films by 1951.
"[Being an animator] doesn't require only the ability to draw. You must also be a musician, dramatist and producer" – Bob Morrow
Hero image: Mike Walker (left) and Bob Morrow (right) with a tall stack of animation drawings - Evening Post photograph, courtesy of the Dominion Post. (Ngā Taonga Sound & Vision Documentation Collection, ref. S12375)
Film Advertising
Morrow Productions were early adopters of the technologies needed to create colour film advertising. They used the Gevacolor process to create New Zealand's first colour animation advertisement, Trees (1952), produced for the New Zealand Forest Service and Soil Conservation & Rivers Control Council. In 1956, the company invested in a Technicolor camera – which, according to the Horowhenua Chronicle, was the first camera of this type in the Southern Hemisphere (the film shot using this camera needed to be sent to the Techicolor office in London for processing). The Shell Oil ICA campaign (1959) is an example of the vivid colours produced using the Technicolor process.
Advertisements made by Morrow Productions attracted international as well as local attention. A New Zealand apples set of advertisements made for British circulation in 1961 were so successful that they had their run extended. What on Earth Is Happening? (1959), produced to mark to mark International Geo-Physical Year 1957-1958, also received international acclaim.
Television Advertising
With the arrival of commercial television in New Zealand on 1 April 1961 there was a sudden need for material to fill the available advertising slots, resulting in steady work for Morrow Productions. Morrow Productions made a mixture of live action and animation television advertisements during the 1960s and 1970s.
For their live action advertisements, the company employed Levin locals, as well as using professional actors.
"In lots of instances it's a matter of wandering around looking at people in the streets. Over the years we have used quite a number of local people. A lot of these commercials don't require acting talent as each person is on the screen only long enough to give an impression." - Mike Walker, Horowhenua Chronicle, 6 Nov 1971
"Animations were labour intensified," recalled Walker ("Photography for you by Mike Walker," The News, 10 June 1992). This is due to the fact that in order to make a single minute of animation, the following process was required:
Story and dialogue established via storyboards and scripts
1,440 drawings produced and filmed, involving replication of figures and props hundreds of times
Corrections and refinements then carried out to the drawings under a magnifying acmiola
Drawings then traced onto acetate sheets
Colours then added to the images
Images filmed again, in synchronisation with the soundtrack
During the early 1960s, the average cost to have a TV advertisement produced by Morrow Productions ranged from 400 pounds for a 30-second advertisement (adjusted for inflation, this would be almost $17,000 in 2016), to approximately 1,500 pounds for a one-minute ad ($63,500 in 2016).
Among many others, some iconic television ads produced by Morrow Productions include:
Morrow Productions would go on to produce a series of feature films: Kingi's Story (1981), Kingpin (1985) and Mark II (1987), after which Mike Walker pursued a career in still photography. Bob Morrow passed away in 1985, and Mike Walker in 2004.
Sources
"Baby Actors Hard to Find," Horowhenua Chronicle, 6 Nov 1971
"Cartoons are Coming!" NZ Listener, 16 Sept 1949, pp. 6-7
"First Technicolor camera in Southern Hemisphere Installed in Levin," Horowhenua Chronicle, 16 April 1956
"Levin Studio Success – Meet Ug, Our First Cartoon Character," New Zealand Free Lance, 13 Jan 1960.
"Life through the Camera Lens," Horowhenua Chronicle, 12 Nov 1994, p. 9
"N.Z. Film Cartoons May be Exported Overseas," miscellaneous newspaper article, 1950s, Morrow Productions Loose Clippings File, ref. 2928, Ngā Taonga Sound & Vision Documentation Collection
"Photography for you by Mike Walker," The News, 10 June 1992
"Television – With Commercials," NZ Listener, 24 March 1961